United in Uniqueness - in Malibu!
Prefer to listen? Click below FOR an audio recording of this post
I had the pleasure of hosting a diversity circle for HUM Nutrition's 2019 'HUM Together' event. With many thanks to my dear soul sister Erica, who has been part of HUM's rapid brand and business growth, I was honored to offer a diversity-themed workshop as a sacred circle. Sitting in circle is the oldest, time-honored tradition of community communication. The circle represents unity, completion, and the perfect, harmonious flow of energies. In circle, everyone is equal - whole unto themselves and honored as important members of the community.

DIVERSITY IS THE SECRET INGREDIENT
HUM Nutrition was celebrating it's growth, successes and people with a full-day retreat in Malibu. The day was centered around the company's 5 core values: Curiosity, Collaboration, Positivity, Impact, Diversity and Respect.
HUM Nutrition is led by co-founders Chris and Walter, who are on a mission to create the best edible beauty products - a new nutrition category of vitamins and nutrients for beauty and skincare, which flip the script on how we've been approaching beauty until now (superficially - literally at the surface level of the skin). Their motto is: beauty starts from within.
Even in the world of beauty, the tides are turning inward to find the answers and reset the compass to 'the inner'!
On this June-gloomy morning, the colors were bright and the energy was high. The company is full of vibrant and full-spectrum 'diverse' people; it is by far the most diverse company that I've worked with. It almost seemed pedantic to get into the numbers and the research describing why companies should consider diversity initiatives and how they positively impact the bottom line, such as:
The top 25% of companies for racial/ethnic diversity are 33% more likely to have better returns than industry averages and that, for gender diversity, the increase is 21%.

Also, companies in the lowest 25% for both ethnic/racial and gender diversity underperform financially

McKinsey 2018
Of course companies underperform ... without a diverse set of perspectives, experiences, skill and knowledge sets, how could anyone hope to sustainably succeed in our interconnected, global community? As a company, if you're trying to reach a 'wider' audience or grow your customer base, you can't do it without understanding people and what their personal preferences are; what shapes them, what influences them, what makes them unique and simultaneously part of a cohort? I'm not just talking about demographics or 'millenials'. It's easy to put people into categories, boxes and labels and run programmatic advertising to try to make a sale. But that won't go far, and it won't be sustainable.
The truth is: data, parameters and research on 'groups', behaviors, etc. useful, but more than ever we are each seeking our own unique expression and we need products and services that serve us and our personal needs. We seek companies and brands that feel right and that have the same values that we do. There is no 'one size fits all' approach; there is resonance to a brand, the quality of what it offers, and its values.
Just being around these incredible people sitting in circle, I could feel why HUM Nutrition is so 'on point' with its brand and its mission.
They care, and they embody their values in every part of the business. It's clearly paying off as they have grown very quickly, are expanding internationally, and are the #1 beauty edibles brand at Sephora. HUM is a wonderful example of a company that is leading the way not only in its chosen category, but in the way of how it understands people and honors diversity within - and without.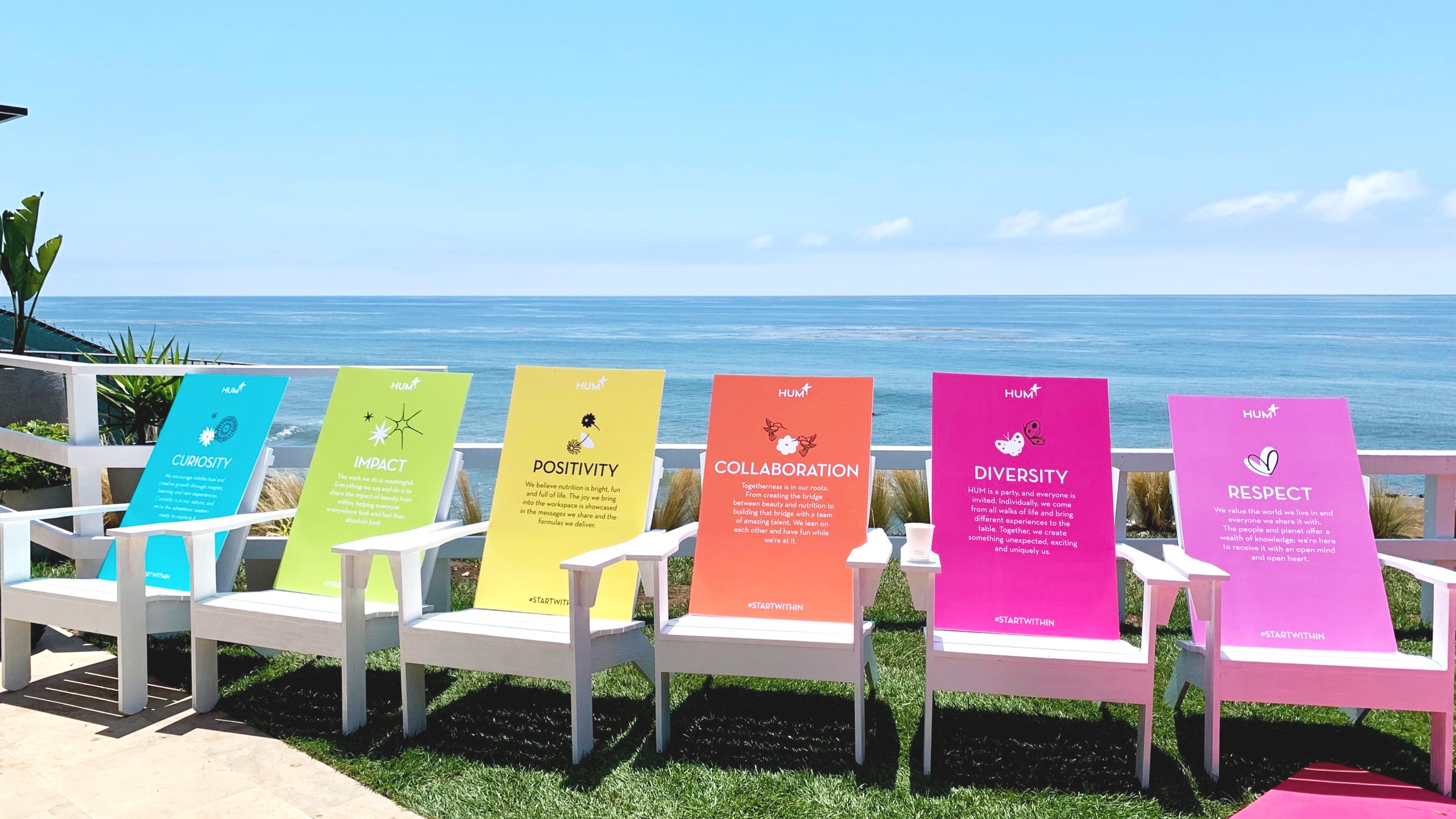 Though HUM literally embodies diversity, most companies are not like HUM Nutrition; most companies, especially large, established companies don't have diverse workforces and either don't know 'how' to embrace diversity or don't want to. It's imperative for executives, board members, and people who are in positions of authority and making hiring decisions to know the numbers and the impact of diversity.
If we can initiate a change by using the numbers, then that's a good place to start. Another is to recognize and honor those companies who are so entrenched in this understanding that it's 'business as usual'; they hire people and build a community around them, like HUM. They know, as Walter and Chris know, that every person in their company is a secret ingredient to their success.
SHARING OUR HUMANITY
When the group was sharing what diversity meant to them personally, Walter said he didn't "care about the metrics" … he wasn't hiring a diverse company for the bottom line or for a diversity honor award; he wholeheartedly believed in the uniqueness and benefits that every single person - as their own unique human - brought to the company, as a matter of principle. He didn't 'see' anyone as being any better, lesser-than or otherwise 'different' just because they were, on the surface, different.
While we learn to honor ourselves and our own uniqueness, it's equally important to recognize our subconscious biases, especially in moments where these programs are running the show! This often happens when we feel threatened, fearful, stressed out, or when a situation reminds us of a past negative event.
When we assume we know what's going on in else's someone's head; what they are thinking (about us) or when we presume to know who they are (based on some prior experience of ours), we lose an opportunity to experience a different outcome and write a new story; perhaps one that is more compassionate, forgiving, and that shows us that being human - our humanity - is what we all have in common, no matter what we look like.
Though unique in our own expression, our human condition seeks love, security, bonding, acceptance, understanding, expression, authentic connection, creativity, curiosity and growth.
Diversity is not division. That's why I call this workshop (and keynote) 'United in Our Uniqueness'.
Diversity is simply … being human. Even beneath the word 'diversity' as its used in corporate settings - gender, race, ethnicity, etc. there's a multiverse of what diversity means, and there's an important commonality. Diversity means being yourself in all of your unique glory!
Your personal preferences, your likes and dislikes, your perceptions, your beliefs, your upbringing, your experiences, your particular fears, hopes and dreams … all of "you" is unique, diverse and incredibly important to the world and the people around you.
Be proud of your differences and see them as qualities and traits that bring something fresh and new to the table. By honoring your own unique inner qualities you openly, humbly and genuinely respect others for being who they are. You stop taking things personally because you know and honor who you are. You own your story and take action to consciously change your subconscious beliefs to more empowering and creative ones that help you live a more fulfilling life.
Being able to shift our perspective means shifting it toward ourselves, first. By honoring the unique, the special, the different - and the differences - within ourselves, we naturally honor the same in others. When we accept ourselves, we accept others.
Before closing our circle with a heartfelt group intention, everyone spent a few moments sharing with someone next to them what they felt was unique and valuable about themselves. How often do we tell someone else: "This is something unique about me that I love and honor. This is a part of me that maybe I used to hide but I'm really proud of. This is who I truly am!"
Together, we can change the paradigm of what diversity means.